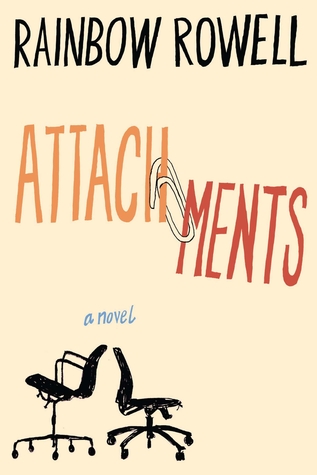 Stole the picture from Goodreads
In the past I have really like Rainbow Rowell writing. Attachments, not so much. I understand this was Rowell's first novel and I think it shows. Everything feels super contrived.
So, this novel is about Lincoln, basically 90's loser that is cute. Today he would probably fall into the hipster category. The original hipsters, the ones that didn't try. He is, what amounts to, an internet night watch man. He reads his co-workers emails in case they are breaking company policy. Meet Beth and Jennifer-they don't care about company policy. They rattle about personal problems all the time. This is where it starts to turn fake and plastic like, other than Lincoln being cliche. We, the readers, only get to read exchanges from Beth and Jennifer. Sure, we hear that others vaguely exist but we only get the exchanges from Beth and Jennifer. There were so many missed opportunities with this to built Lincoln and add interest.
Jennifer and Eve were probably the best characters in the book. Lincoln didn't disappoint me, but he didn't wow me either. Beth was….okay. Chris wasn't believable, like at all. Lincoln's mom was a typical mom, nothing too exciting going on there. Doris was also a pleasant character but it felt so convenient for her to appear. Then there was the subplot and backstory Sam, believable but so flat and boring. She was "different" in a trendy sort of way and she was extremely predicable. These clauses are oxymoronic (I'm making that a word!) which sums up Sam. The Dungeons and Dragons gang was alright. I don't understand anything about that so I felt a touch lost. Then there is Justin, a walking cliche. SPOILER ALERT: I'm sure him and Dena will be divorced within a year. Justin is a total tool.
All the cliche movie references were kind of annoying. I was surprised there wasn't more internet shorthand in the emails. The plot was pretty stale, especially for a publish date of 2011, even though it was a throwback. Maybe I just can't appreciate throwbacks? Not sure.The ending was very OOC. I had to back up a page because I thought I missed something. Anyone that's read it, please tel me if you agree.If you want something cutesy to read, go ahead, this isn't terrible but don't expect the fantastic work of Fangirl in Attachments.
I give Attachments a 2.5 rainbows out of 5.
Found on Google Search